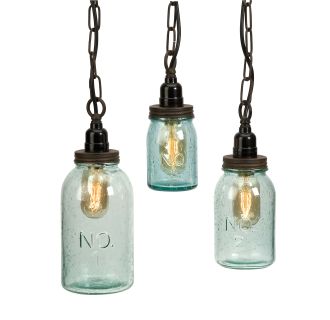 Image from IMAX Home
Set of 3 Pendant lights for a mere $149.35
I wanted pendant lights for my kitchen, like the ones above. I needed them to shine down brightly on my food prep areas. I wanted them to be very cute. But I needed them to be cheap.
I want, I want, I need, I need.
Keith once again came through by repurposing not only a few blue canning jars, but a pressure washer as well. I know. Who'd have thunk?
When we searched Pinterest and the rest of the net for ideas, we found tons of pendant light kits ranging from $15 to $60 each, and many included only the wiring and socket., no bulb, no jar, no additional wiring. Complete lights like the ones above were ridiculous in pricing, $149.50 as an example. So Keith inspected his hoard of shop stuff and found old (but still of this century, we think) pressure washer wiring, and sockets some other farmer guy threw in for no cost when we bought supplies from him a decade ago (the details-as always- are sketchy). I added the canning rings, canning lids and blue Ball canning jars I am partial to.
Once he completed the wiring to the sockets, he cut a whole in the canning lid to slip the socket through, then added the metal canning ring. I spray painted all the bits and bobs a glossy black to match the wiring.
At the advice of our son, we bought the LED bulbs to keep the heat low within the jars. We chose the white bulbs (as opposed to yellow) at 500 lumen strength which is roughly equivalent to 60 Watts of a standard bulb. These bulbs were the most expensive item of the whole project at $15 for two, but they are projected to burn for 15,000 hrs. Unlikely that even I will continue to burn brightly for that long.
To attach to the ceiling we used metal boxes $1.50 each, already on hand. The wiring to the boxes had already been paid for with the initial wiring of the Grain Bin House done last year.
Thus, total additional cost was just the bulbs or about $7.50 for each complete pendant light. Yes, even the spray paint was a leftover can.
And the man who installed them.